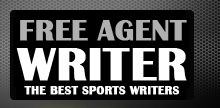 Yankee Addicts
Categories
Featured Sponsors
News published by
March 7, 2011
Jake Locker (Washington) is one of the most intriguing QB prospects in this year's NFL Draft. The two quarterbacks that are getting the most hype are Blaine Gabbert and Cam ...
February 23, 2011
Miami Dolphin fans everywhere are talking about what direction the franchise should take this offseason. Every fan has their own opinion on what the organization should do, but the cold hard ...
April 2, 2010
AFC East: Miami Dolphins (AFC East Division Champs) New York Jets (Wild Card) New England Patriots Buffalo ...
April 1, 2010
Who will the Dolphins Choose? The Miami Dolphins have the No. 12 draft pick in the 2010 draft. Reports are all over the place with predictions. I thought I would ...
April 1, 2010
Should the Dolphins choose a DT with their No. 12 pick in the first round? The Dolphins need to draft a NT/DT due to the aging Jason Ferguson. Also, Ferguson will ...