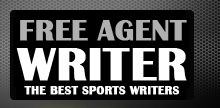 Yankee Addicts
Categories
Featured Sponsors
News published by
August 10, 2010
This year's NFL Hall of Fame class contained a new record of seven inductees, including John Randle, who has the most sacks by a defensive tackle in NFL history. The previously ...
July 25, 2010
Samuel L. Jackson may be one of the most powerful people in the entertainment industry, so when he tells you to do something, you do it. When he tells you to jump, ...
July 24, 2010
Theroot.com recently compiled a list of "The Blackest White Folks We Know," which contained names such as Madonna, Bill Clinton, Robert Downey Jr., etc. Chicago Bears linebacker Brian Urlacher also made ...
July 21, 2010
Chad Ochocinco and Terrell Owens may be filming reality TV shows for VH1 during the offseason, but Randy Moss is chilling out from all the drama in 32 degree weather with ...
July 17, 2010
Please check out my website, TheSportingRave.com. Fresh off the 18th annual ESPYs, where New Orleans Saints quarterback Drew Brees won four awards, including Best Male Athlete, it was announced ...
June 29, 2010
Pat Tillman, a safety for Arizona State University, was selected with the 226th pick in the 1998 NFL Draft by the Arizona Cardinals. Normally, a player drafted 226th overall is just ...