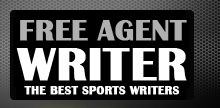 Yankee Addicts
Categories
Featured Sponsors
News published by
August 9, 2010
If the autumn is to be a pirate, then the Oakland Raiders will need to win early and win often.With a prevailing losing culture enveloping Oakland these past eight years, ...
April 12, 2010
Twelve months ago the NFL Owners' opted out of the CBA and set in motion a series of events that are gathering pace at alarming speed.   Twelve months ago we ...
April 5, 2010
Oakland Raider fans should not despair now that Donovan McNabb is joining the Washington Redskins. McNabb is is an injury prone 34-year old quaterback who, according to former center Hank Fraley, choked ...
March 1, 2010
Given Al Davis' track record, anything is possible for the Raiders in the upcoming NFL Draft and the imminent Free Agency period. As ever the Raiders have many gaps to ...