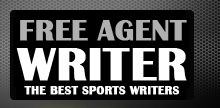 Yankee Addicts
Categories
Featured Sponsors
News published by
December 26, 2016
College football bowl season is off and running, and some 2017 NFL draft prospects are taking that literally. With brilliant performances from workhorse runners Jamaal Williams of Brigham Young University ...
December 19, 2016
Bowl season is officially underway, giving many of the top prospects in college football one last shot in the spotlight. A talented San Diego State team had little trouble handling ...
December 12, 2016
It was a quiet week on the NFL draft prospect front, but things will be picking up as bowl season approaches. Players are beginning to declare, including a few star ...
December 5, 2016
Championship weekend is in the books and the draft spotlight continues to shine on prospects across the country. Wide receiver Corey Davis continued to tear up any defensive back in ...
November 14, 2016
The college football world was rocked this weekend, with multiple upsets potentially shaking up the playoff picture. Meanwhile in the NFL, the favorites to pick in the top five are ...
November 7, 2016
The College Football Playoff Top Four is taking shape, giving plenty of NFL hopefuls an even bigger spotlight to showcase their ability. Deshaun Watson will have another opportunity to lead the ...
October 24, 2016
LSU running back Leonard Fournette did not disappoint in his return, reminding everyone just who is the best offensive prospect in the country. Meanwhile, another (less popular) player returned to ...
October 17, 2016
In another thrilling week of college and pro football, plenty of names continue to jump out in the NFL draft landscape. The cornerback class for 2017 is impressive as ever, ...
October 10, 2016
We are now six weeks into the college football season, and plenty of prospects continue to shine, ready to take that step to the next level. Meanwhile, plenty of NFL ...
October 3, 2016
It was another wild week in college football. Two heavyweight quarterbacks did not disappoint as Clemson took down Louisville. Deshaun Watson reminded the world his Clemson Tigers are still a ...