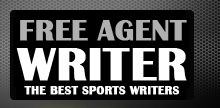 Yankee Addicts
Categories
Featured Sponsors
News published by
April 15, 2011
Historically, the Cleveland Browns have not fared well in the NFL Draft until the coming of team president Mike Holmgren. The Browns had an extremely successful draft under Holmgren in ...
March 28, 2011
Oakland Raiders cornerback Nnamdi Asomugha is looking for a new home. He doesn't want to be in Oakland any longer.As one of the top coverage men in the league, Asomugha's ...
March 24, 2011
After a 2010 season plagued with injuries and struggles for DeAngelo Williams, it appears he'll be a highly-coveted free agent in 2011.Which teams could use him as either a permanent ...
March 23, 2011
These days in the NFL, a lot of the smaller market teams are in desperate need of a new stadium. For example, the Minnesota Vikings' stadium roof collapsed last December, causing ...
March 22, 2011
Every year in the NFL, there's a small group of players who take drastic steps forward on the verge to superstardom.For the Super Bowl champion Packers, wide receiver James Jones ...
March 18, 2011
Even with the lockout still in place, the NFL Draft is about one month away.  The middle and later rounds always have hidden gems who aren't talked about very much before ...
March 15, 2011
The Philadelphia Eagles showcased a spectacular offense in 2010, built around the speed of quarterback Michael Vick and wide receiver DeSean Jackson.Both players have emerged as stars in the NFL, ...
March 14, 2011
The Oakland Raiders finished 8-8 in 2010, which is far better than what they were expected to. Al Davis now looks to improve on his team's decent season, with new coach ...
March 7, 2011
HBO's "Hard Knocks" took the football nation by storm in 2010 when the New York Jets agreed to do the show. It has been on TV since 2001, but only ...
March 7, 2011
The Pittsburgh Steelers have recently drafted some solid talent to add to their perennial playoff teams.The Black and Gold came one drive shy of winning a seventh Super Bowl for ...