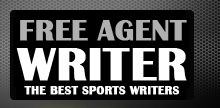 Yankee Addicts
Categories
Featured Sponsors
News published by
March 27, 2013
We are now two weeks into the free-agency period and the 2013 NFL Draft is only a month away. Although Arizona has not had the greatest free agency so far, ...
November 28, 2012
Week 12 has come to a close and the playoff picture is becoming clearer. As we near playoff time, the debates for MVP and offensive and defensive player of the ...
October 14, 2012
After a tough game in St. Louis, the Arizona Cardinals will return home in Week 6 to take on the Buffalo Bills this Sunday. They suffered their first loss of the ...
June 16, 2012
Just one year ago, there were very few people outside of the Bay Area that cared to watch the San Francisco 49ers. Fast forward to now, and they are one ...
June 9, 2012
The San Francisco 49ers went from nothing in 2010 to one of the best teams in the National Football League in 2011, winning 13 regular-season games and earning a first-round ...
June 2, 2012
In a recent article written by San Francisco 49ers featured columnist Joe Levitt, Levitt explained why the Arizona Cardinals are not a legitimate threat and that they would be swept ...
May 23, 2012
After landing one of the best defensive players in the draft last year in Patrick Peterson and trading for what looked to be a potential franchise quarterback, many fans had ...
May 19, 2012
We are now nearing the end of May and are just a few months away from the start of the season. The way that the Arizona Cardinals closed out 2011 ...
March 10, 2012
The NFL's free agency period is right around the corner, and teams like Miami, Denver and Arizona are already a step ahead in negotiations with Peyton Manning. Many people are ...
February 12, 2012
As fans, we all tend to have certain expectations for our teams' going into a season. Then we have things that we would like to see happen, and finally, the ...