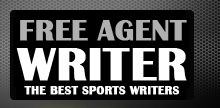 Yankee Addicts
Categories
Featured Sponsors
News published by
April 29, 2010
In the current age in the NFL, the running back position has changed. Every team has their starter. Some teams have a change of pace 'back and some have a ...
March 2, 2010
Coming soon after the announcement of Kurt Warner's retirement, the Arizona Cardinals will announce their release of deepback Antrel Rolle. Rolle, an alternate in the recent 2010 Pro Bowl, ...
January 9, 2010
Browns offer Cribbs new deal..... Cribbs is disgusted..... Browns say offer is final..... Cribbs and agents act very unprofessional..... BLAH BLAH BLAH BLAH BLAH.......... If Cribbs can't act professional and a deal cannot be negotiated, ...