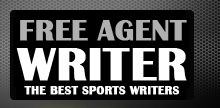 Yankee Addicts
Categories
Featured Sponsors
News published by
April 16, 2010
Recent rumors suggest the Pittsburgh Steelers may be entertaining offers for quarterback Ben Roethlisberger.  As aired on NFL Network, one potential scenario would be the Rams trading their first overall ...
April 5, 2010
Heading in to the 2010 NFL draft, the potential surprises at the top of the board are slowly dwindling down to a mind-numbingly predictable scenario. St. Louis has done little ...
March 18, 2010
The Chiefs' current offseason approach reminds me of a mid-market baseball team, carefully plodding its way through the waves of emotion surrounding every potential free agent on the market. They're ...