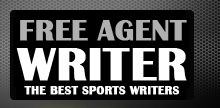 Yankee Addicts
Categories
Featured Sponsors
News published by
April 7, 2012
Sometimes, the business of football can leave you scratching your head.Dave Tollefson—the former New York Giants backup defensive end, special teams warrior and California native—returned to his home state by ...
April 1, 2011
Let's talk football—why? Because we can. Did you ever see a player who just had "it?" It might be a player that, at one time, you didn't know his name, his college stats, ...
November 23, 2010
Domenik Hixon, Ramses Barden, Steve Smith and now Hakeem Nicks are out with injuries.   It isn't pretty when it comes to the Giants' wide receiving unit.  The Giants tried-out ...
October 20, 2010
When the New York Giants signed Michael Boley from the Atlanta Falcons before the 2009 season, expectations were very high and fans were excited to see Boley coming ...
September 21, 2010
New York Jets star wide receiver, Braylon Edwards was arrested this morning at 5:15 a.m. for drunken driving. The report states that the wide receiver was originally pulled over for having ...
September 19, 2010
I have never been a fan of NASCAR.  All those left turns.  But when it comes to football and the New York Giants, NASCAR means opposing quarterback's are ...
September 6, 2010
Can anyone explain to me how Sinorice Moss, Gerris Wilkinson, and Travis Beckum made the 2010 New York Giants roster? I can name two other players per position the Giants would ...
September 1, 2010
The Big Blue fan base is concerned.   Where's the passion?   Where are the improved defensive scheme's from our new defensive guru.  Why are there so many injuries and has anyone ...
August 18, 2010
Quarterback Jim Sorgi came to the New York Giants in the offseason with a unique tie to the franchise.   Sorgi, drafted in 2004 by the Colts in the sixth ...
July 9, 2010
Bring the Noise! In 2010 The New York Giants bring back the swagger with a fist full of youth...loaded with attitude. The defense will be under the microscope as new DC ...