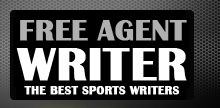 Yankee Addicts
Categories
Featured Sponsors
News published by
February 1, 2011
Here we have it, the Super Bowl XLV matchup between Pittsburgh and Green Bay. The team of the '60s versus the team of the '70s. With a win in this ...
August 12, 2010
 As we gear up for the start of the 2010 NFL season, let us take a look at some of the names that you may not have heard of, or ...
May 29, 2010
Americans love sports. There are channels, websites, blogs, radio shows, restaurants, and houses designed just for athletics. Sports, quite simply, provide us with entertainment that is unscripted and enthralling. Throughout the ...
May 8, 2010
As the busy and assiduous NFL offseason continues, many tasks and events have been crossed off the league's to-do list. Free agency, the scouting combine, owner's meetings, the draft, and ...