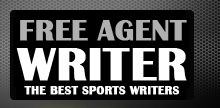 Yankee Addicts
Categories
Featured Sponsors
News published by
September 7, 2015
For the Baltimore Ravens, the NFL regular season is upon them, and the final roster is locked in. Every team in the NFL has cut down to its final 53-man ...
September 3, 2015
The Baltimore Ravens are on the downside of the NFL preseason, and at this point they are going to try to coast into the start of the regular season. With ...
August 30, 2015
When you read about the Baltimore Ravens 31-13 preseason loss to the Washington Redskins Sunday, most of the focus is going to be squarely on the fight that broke out, and ...
August 26, 2015
Now that the Baltimore Ravens have crossed the halfway point of the 2015 NFL preseason, it is now time to take another look at which players' stocks are on the ...
August 24, 2015
Now that the Baltimore Ravens have two preseason games in the books, the picture of what this team is all about is starting to come into focus. Looking at things ...
August 23, 2015
The Baltimore Ravens found out Saturday night in its 40-17 preseason loss to the Philadelphia Eagles that sometimes it's just not your night. The final score of a preseason game ...
August 19, 2015
It's doubtful that the Baltimore Ravens thought they would still be trying to sort out their wide receiver depth chart this far into the preseason. Unfortunately, that is exactly where ...
August 17, 2015
At this point, the Baltimore Ravens seem to be settling into several positions in terms of  their starting lineup. Even with only one preseason game in the books, the Ravens ...
August 12, 2015
The Baltimore Ravens prepare to take the field on Thursday night and take on the New Orleans Saints. They kick off the NFL preseason with a home matchup against the ...
August 7, 2015
Now the Baltimore Ravens have their first week of training camp in the books, it's time to assess and evaluate where the team is in terms of some of the ...