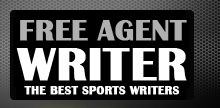 Yankee Addicts
Categories
Featured Sponsors
News published by
April 18, 2010
Great men often make decisions that are controversial. They see farther and deeper. Al Davis is described by many as a risk-taker. There is nothing wrong with that description. Davis just ...
April 18, 2010
Tom Cable seems confident during his April 15 interview with the press. He is preparing for the 75th NFL Draft and he knows what he wants for the team. Cable says ...
April 18, 2010
On Oct. 4, 2008, the New York Daily News reported this quote: "Al Davis won't be happy unless John Madden is his coach and Daryle Lamonica is throwing bombs to Warren ...
April 17, 2010
Al Davis made a presentation at the Pro Football Hall of Fame in Canton, Ohio, in 2006. The win-loss record for the Oakland Raiders in that same year was four wins, and ...
April 16, 2010
Let's just say that being in the right place, at the right time is a powerful, positive factor in the careers of some people. Have you wondered if factors other ...