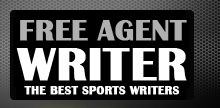 Yankee Addicts
Categories
Featured Sponsors
News published by
January 18, 2016
Snoop Dogg is one of the more prolific jersey wearers of our time.If you give him a jersey, he will wear it, because Snoop Dogg's favorite team is usually whoever ...
January 14, 2016
Bill Belichick doesn't want to talk about his eye.He doesn't want to talk about strategy or his personnel decisions or why Chandler Jones wound up at the hospital after reportedly ...
January 5, 2016
Were you on the strip in Las Vegas on Saturday night?Did you see anything suspicious? Say, a guy who looked like Johnny Manziel if Johnny Manziel pasted on a mustache and ...
December 16, 2015
The New England Patriots lost LeGarrette Blount on Sunday to a season-ending hip injury, forcing the team to spend this week rummaging about in the free-agent bin for reinforcements.One name ...
November 25, 2015
Cleveland Browns fans are understandably upset with Johnny Manziel. Some want to see him play. Some would like to see him hurled into the frozen infinity of space.Bill, a caller who ...
November 17, 2015
Cam Newton danced Sunday, and ever since, the world has burned with the heat of a thousand takes over the fact that a man of his stature had the gall ...
October 29, 2015
The fantasy football food chain is a horrifying thing.It's a circle of carnage, really. No one is safe. Not you. Not the star running back. Not even the pinnacle predators.Because, ...
October 20, 2015
This is the highbrow stuff.This is what my family wanted for me when I enrolled in college and was taught the finer points of bothering strangers about matters of public ...
September 10, 2015
Bill Belichick is a no-frills kind of guy.All he's ever wanted from technology is a clipboard and a telescoping lens. He can barely stomach regular media, much less the social ...
September 4, 2015
I would've liked a better name for it, but I guess that's ultimately secondary in these matters.The important thing is Rob Gronkowski will be putting out his own brand of ...