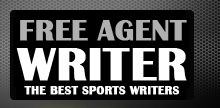 Yankee Addicts
Categories
Featured Sponsors
News published by
September 27, 2014
The Jacksonville Jaguars are off to a horrendous start this season. They sit at 0-3 and have been outscored 119-44. This is far from the start many fans imagined given the optimism ...
September 27, 2014
Going into Week 4, things couldn't be much worse for the Jacksonville Jaguars. They sit at 0-3 with all three losses being blow outs. They have been outscored by their ...
September 20, 2014
The Jacksonville Jaguars are now 0-2 after a devastating loss to the Washington Redskins last week. This week, they host the rival Indianapolis Colts in their home opener, and things ...
September 20, 2014
After a lot of optimism in the offseason, the Jacksonville Jaguars have had a less-than-spectacular start to the regular season, sitting at 0-2. One of the biggest factors for their ...
August 30, 2014
The preseason is over, and for the Jacksonville Jaguars, things could not have gone much better. Their defense has had an effective pass rush, and their offense has been efficient ...
July 12, 2014
The Jacksonville Jaguars have been busy this offseason upgrading their roster so they can avoid another 4-12 season. Their offense has been overhauled with four new starters being brought in. ...
June 10, 2014
Last year, the Jaguars went into the season with the weakest roster in the NFL, according to Chris Wesseling of NFL.com. They have made a number of changes since then, especially ...
May 24, 2014
The Giants tight end position has been a revolving door for years. Big Blue hasn't had a stable player at the position since Kevin Boss manned the spot from 2008-10. ...
May 17, 2014
It has been a rough stretch for the Jacksonville Jaguars lately. They have suffered through six consecutive losing seasons in a division that features the Indianapolis Colts and Houston Texans, ...
May 17, 2014
Steve Johnson, Wide Receiver—Traded from Buffalo Bills to San Francisco 49ers Over the course of his career, Johnson has become famous for his big-play ability as well as his sometimes controversial ...