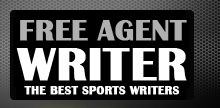 Yankee Addicts
Categories
Featured Sponsors
News published by
August 25, 2015
Jameis Winston's final set of downs against the Cincinnati Bengals on Monday night was not what the Tampa Bay Buccaneers wanted to see, as their prized investment had an apparent ...
August 24, 2015
Leading up to the 2015 NFL draft, many analysts questioned whether Marcus Mariota would be able to make a successful transition to a pro-style offense. A dual-threat quarterback who is ...
August 18, 2015
After months of preparation on their part and hype from everyone else, NFL rookies finally had the opportunity to take the field for live game action this past week as ...
August 16, 2015
Jameis Winston was widely purported to be the most NFL-ready quarterback in the 2015 NFL draft—that's why the Tampa Bay Buccaneers selected him with the No. 1 overall pick—but his ...
August 15, 2015
Marcus Mariota's first two series in live game action as an NFL quarterback ended as nightmarishly as anyone could have expected. But the rookie bounced back to demonstrate his passing ...
August 10, 2015
No player in the NFL has bigger proverbial shoes to fill this upcoming season than Jimmy Garoppolo. Tom Brady is suspended four games for his "more probable than not" role in ...
August 9, 2015
Summer is the time of the season for preseason watch lists, where media and NFL scouting departments alike begin compiling databases of players to watch this upcoming college football season, ...
August 5, 2015
As there is no clear-cut favorite to win the award, there are many first-year players who have the potential—if they can establish themselves as core defenders on their teams—to be ...
July 18, 2015
No team ended the 2014-15 NFL season with a higher stock than the New England Patriots, who defeated the Seattle Seahawks to win Super Bowl XLIX. Going into the start ...
July 4, 2015
Heading into the 2015 college football season, linebacker looks as though it could be one of the 2016 NFL draft's strongest positions. Even so, there is one linebacker whose game ...