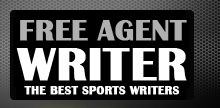 Yankee Addicts
Categories
Featured Sponsors
News published by
January 22, 2016
For a decade and a half, they have been each other's great impediments. If Peyton Manning had played in another time, Tom Brady might have six Super Bowl rings instead of ...
January 21, 2016
With each passing year, each game, each reception, the greatness of Arizona Cardinals receiver Larry Fitzgerald becomes clearer.  The YouTube catches and the scrapbook seasons just keep stacking one on top ...
January 14, 2016
Night before the game. Hotel ballroom. All Cardinals players present. Bruce Arians walks to the front of the room. The noise stops. He speaks. "Tomorrow, are you going to be the guy who says, ...
January 7, 2016
The winner of a contest to announce the first of the Redskins' two fourth-round picks in 2012 took the microphone. "With the 102nd pick in the draft," Bridget Dowd said, "the ...
January 5, 2016
What has been perceived as a leap has, in fact, been a climb. Russell Wilson's performance down the stretch this season is the culmination of a methodical, paced effort.  The Seattle ...
December 23, 2015
On the television stand in the bedroom of Tregg Duerson's home is a burgundy leather Bible. A name is embossed in gold on the cover. David R. Duerson. The book belonged to Tregg's ...
December 16, 2015
There Malcolm Butler is, leaping in the end zone to break up a potential Nate Washington touchdown in a Patriots victory over the Texans.   And there he was, hobnobbing with ...
December 3, 2015
Bolder. Held together. Reaching new heights. There is change in Andy Dalton that cannot be ignored.  And then there is his hair. Spectacularly different, vividly red and unconventionally styled, it has become his ...
November 5, 2015
James Jones stood there on 3rd-and-3, split out left, waiting for the snap on the Packers' second series of the season. It had been just seven days since the 31-year-old ...
October 16, 2015
New England Patriots running back Dion Lewis seemingly has emerged from crumb rubber, musket smoke and pixie dust, so we are inclined to chalk him up to mystery. How else can ...