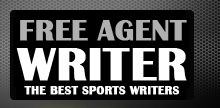 Yankee Addicts
Categories
Featured Sponsors
News published by
December 15, 2010
The best images of the NFL season might just be the collapsing roof in Minnesota. With the way the Vikings season has imploded on them, the symbolism was rather apropos. Who ...
September 24, 2010
Week 3 in the NFL is the first huge week of the season. For 0-2 teams, it is their first must win game, 0-3 is too big of a hill ...
August 1, 2010
When NFL training camps start to open, it is my favorite time of the year. The NFL season goes by so fast. We are treated to great games every Sunday ...
April 24, 2010
In 2007, the Cleveland Browns had a great first round of the draft. Joe Thomas has been everything that a top five pick should be and the icing on the ...
March 8, 2010
The Rams franchise has been on the move for its whole existence. Born as the Cleveland Rams of the AFL in 1936, it moved to the NFL in 1937. In 1946, ...