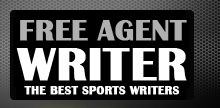 Yankee Addicts
Categories
Featured Sponsors
News published by
February 19, 2014
Since Ben Roethlisberger came to Pittsburgh in 2004, the Steelers have had no shortage of success. But one thing they've been a little short on is, well, height, especially at ...
January 22, 2014
The Pittsburgh Steelers' 2013 campaign wasn't exactly what they had hoped for. However, one of the bigger disappointments of the 8-8 season was the performance of receiver Emmanuel Sanders.  After Mike Wallace ...
September 18, 2013
The Pittsburgh Steelers are 0-2, and it's been a long time since anyone can bust out that fun fact.  In fact, it's been 11 years since the 2002 Steelers started their ...
September 19, 2012
Two weeks of football are in the bag and each team in the AFC's top division a year ago has a loss. Pittsburgh rebounded from a heartbreaking road loss to ...
September 19, 2012
It's still really early in the NFL season, but even so, some of us whose teams aren't doing so well are already looking forward to April to see who the ...
September 5, 2012
The AFC North has routinely been known for their hard-nosed style of play and ground-and-pound schemes. From Jerome Bettis to Jamal Lewis, this division is notorious for chipping away at ...
May 30, 2012
With the division boasting three playoff teams in 2011, there's high expectations for the AFC North quarterbacks to continue the trend. Let's see how the quarterbacks graded out against each ...
May 30, 2012
The best teams in the NFL use the draft to replenish and retool themselves for another championship run. Much of that involves finding some offensive and defensive weapons that can ...
May 16, 2012
Gone are the days of running games dominating the NFL, and with that demands a new breed of inside linebackers leading defenses.Never again will the NFL see a player like ...