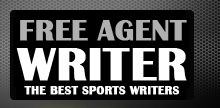 Yankee Addicts
Categories
Featured Sponsors
News published by
May 25, 2010
With the recent selection of CJ Spiller in the 2010 NFL Draft, many rumors began swirling about a potential trade involving Buffalo's former 1st round pick, Marshawn Lynch.  The 3-year ...
May 21, 2010
They say football is a game of inches. There's no better illustration of that point than the 2009 Buffalo Bills. Vince Lombardi used to always remark that there's usually only four or ...
May 20, 2010
The 2,000 yard season. In some circles, this may be the greatest accomplishment a running back can ever make.  With Chris Johnson joining the ranks by six yards in 2009, there ...