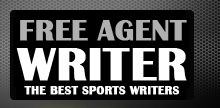 Yankee Addicts
Categories
Featured Sponsors
News published by
May 11, 2013
Now that we are well into May, we have a better handle on the personnel and structure of all 32 NFL defenses. Armed with all that information, we are in ...
May 4, 2013
We have watched an active 2013 offseason filled with the ebb and flow of free agents coming and going and the suspense and mystery surrounding the 2013 NFL draft.The offseason ...
April 13, 2013
Love him or hate him, it is difficult to be neutral when it comes to NFL commissioner Roger Goodell. It will take the city of New Orleans a long time ...
March 13, 2013
The Buffalo Bills intend to draft a quarterback in the 2013 NFL draft. Whether or not they reach for one is yet to be determined. The issue of drafting a ...
March 6, 2013
The Carolina Panthers currently hold the No. 14 overall draft pick for the 2013 NFL draft. One of the players that has been mentioned as an option for the Panthers ...
February 27, 2013
The NFL deadline for applying the franchise tag is fast approaching on Monday, March 4 and the Kansas City Chiefs are still mulling over what they intend to do with ...
February 16, 2013
On Saturday, February 23, the NFL Network will begin televising the first of four days of testing NFL 2013 draft class hopefuls at the Indianapolis Scouting Combines. This year there ...
February 10, 2013
Now that the dust is settling on Super Bowl XLVII, it is time to take one last look back at the 2012-13 NFL season to see what kind of lessons ...
January 27, 2013
The 2012 Pro Bowl game was such a sham that NFL Commissioner Roger Goodell reacted by stating that the game may have to be discontinued. With that kind of strong ...
January 22, 2013
The predictions were slow to emerge early this week for Super Bowl XLVII, but you can be sure that every day that passes will find more and more prognosticators venturing ...