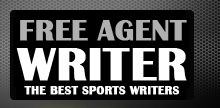 Yankee Addicts
Categories
Featured Sponsors
News published by
March 22, 2011
As the Denver Broncos blogosphere continues to be inculcated with the monotony of the Orton versus
February 8, 2011
Brandon Lloyd was easily the brightest spot on a very dark season for the Denver Broncos in 2010.  His ability to make the acrobatic and circus-like catches, coupled with the ...
January 29, 2011
In filling the final spots on the coaching staff, it is safe to say the John Fox regime as head coach of the Denver Broncos is officially underway. As Fox, John ...
January 8, 2011
December 7, 2010
According to Bill WIlliamson of ESPN, Josh McDaniels has been relieved of his head coaching duties with the Denver Broncos. McDaniels was highly recruited after leading the Patriots, as offensive coordinator, ...
November 29, 2010
In the wake of a media firestorm, and after being outplayed by a team that had not won on the road in over a year, Denver Broncos head coach Josh ...