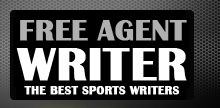 Yankee Addicts
Categories
Featured Sponsors
News published by
September 11, 2015
Just like that, Tom Brady was back on the field for the Patriots after what may go down as the most bizarre saga the sport has ever seen. And, as ...
August 11, 2015
The Hall of Fame Game on August 9 may not have been the star-studded, exciting game that some were hoping for, but at least football is back. It's a start. With ...
August 7, 2015
After a long summer sans football, the boys are finally in training camp and getting set for game action, which means it's officially fantasy draft season.  If you're looking for a ...
August 4, 2015
The New York Jets are set to begin their 2015 season with renewed expectations under a new regime. With Rex Ryan and John Idzik done as head coach and general ...