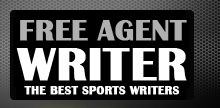 Yankee Addicts
Categories
Featured Sponsors
News published by
November 9, 2010
When the Detroit Lions drafted Matthew Stafford with the No. 1 pick in the 2009 NFL draft, I was against it. In my pre-draft writeup, I indicated that I wasn't impressed ...
September 3, 2010
Charlie Batch, Byron Leftwich, Dennis Dixon, Kyle Orton, Brady Quinn, Colt McCoy, Jake Delhomme, Seneca Wallace, Trent Edwards, Levi Brown, Brian Brohm... It reads like a murderers' row of quarterbacks feared ...
August 4, 2010
I hear the train a comin' It's rolling round the bend And I ain't seen the sunshine since I don't know when, I'm stuck in Folsom prison, and time keeps ...
March 21, 2010
Adam Jones is more commonly known as "Pacman" and has been recognised as such for much of his life, dubbed early on by his mother who noticed his propensity for ...
March 12, 2010
As I was answering the truly well though-out and engaging comments on my most recent Detroit Lions article, and watched the number of reads climb into the thousands, it ...
March 11, 2010
Well, it looks like Brady Quinn's short and volatile stay with the Cleveland Browns is coming to an end. Just a couple years ago, it appeared that the Browns had an ...
February 26, 2010
There has been much talk of late about exactly what the Detroit Lions should do with their richly deserved no. 2 pick in the upcoming NFL draft. Some claim ...