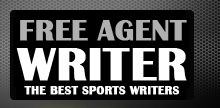 Yankee Addicts
Categories
Featured Sponsors
News published by
January 31, 2016
Peyton Manning, Cam Newton and Carson Palmer might have been all have been the top overall picks in their respective NFL draft classes, but sometimes the elite slip through the ...
January 27, 2016
The jump from college football to the NFL is a tougher one than the most casual fan can appreciate. Success during a player's collegiate career doesn't necessarily translate to success ...
January 25, 2016
Scriptwriters everywhere take notice. For everything the NFL has done wrong during the past couple of years, they somehow managed to set up one of the most compelling Super Bowl ...
January 25, 2016
When you start to look at the projected draft boards for the upcoming NFL draft—look out, it is closer than you might think—you start to see a trend when it ...
January 24, 2016
Peyton Manning against Tom Brady and Cam Newton against Carson Palmer both have a nice ring to them, don't they? Once these matchups were set, the focus went to four ...
January 24, 2016
With college football at its end and basketball yet to hit its postseason fervor, all eyes will be on the NFL playoffs this weekend. Two entertaining matchups—both on the field ...
January 23, 2016
All eyes will be fixated on the AFC title game because it is Tom Brady facing off against Peyton Manning, and with both players entering the twilight of their careers, ...
January 23, 2016
Everyone always likes to talk about the years when the No. 6 seeds make a shocking run to the Super Bowl and make it seem that once the playoffs start ...
January 23, 2016
For every X-factor, every unexpected game-changing player, on the biggest stage in American sports, it can often come down to which superstars play closest to their potential when the lights ...
January 12, 2016
As is typically the case, the Wild Card Round of the NFL playoffs was rife with a number of upsets—at least as far as the seeding was concerned. There is ...