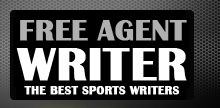 Yankee Addicts
Categories
Featured Sponsors
News published by
June 27, 2014
When it comes to preparing for your fantasy football draft this summer, Khiry Robinson is a name you might want to get to know. There is a lot to like about ...
June 13, 2014
When it comes to fantasy football, drafting rookie running backs always seems to be the rage, and in 2014, one such player who may take everybody by storm is new ...
September 8, 2013
Let's face it, your fantasy football team after Week 1 is sure to stink, so you better be fast to the waiver wire. OK, so that statement may not be ...
June 14, 2013
  Sometimes, all it takes for an NFL player to rejuvenate his career is to switch teams. They say a change of scenery is all that is needed to help jump-start ...
June 8, 2013
Whether it was through free agency or the draft, several prominent fantasy stars have had their value affected this offseason. As a result of all the new roster shakeups, some ...
October 28, 2012
As we approach Week 8, we are almost at the midway point of the NFL season. And before you know it, the fantasy playoffs will be here. These next few ...
October 14, 2012
When you drafted your team in late August or early September, you had every intention of rolling with your studs each and every week—no matter what. That theory is a ...
September 30, 2012
After three weeks' worth of games and data to digest, many fantasy owners are at the end of their rope in regard to some of their underperforming players. The five ...
September 22, 2012
With two weeks in the books in fantasy football, we can now begin to accurately gauge the value of most players. Who can you trust? Who should you ditch? If ...
November 19, 2011
Every year, many players rise to the occasion and step up their games.This year has been no exception. In this slideshow I will profile 10 players, in no particular order, ...