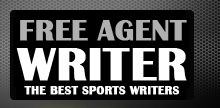 Yankee Addicts
Categories
Featured Sponsors
News published by
May 13, 2010
"It is better to give than to receive." We are all very familiar with the age-old adage that promotes sincerity. While many would gladly prefer to receive, the average person will ...
February 25, 2010
March 5 may bring upon the start of free agency, but the Cincinnati Bengals' biggest to-do on their list is already on, scratch that, in charge of the team. The Bengals ...
February 23, 2010
As this year's NFL Scouting Combine rapidly approaches, the many players invited pray they do not have the same setback that Georgia Tech wide receiver DeMaryius Thomas (pictured) had. The ...
February 18, 2010
Plain and simple: The Cincinnati Bengals need help at wide receiver. How they fix that will be heavily focused upon—and possibly questioned. This comes with good reason, as they have already ...
February 13, 2010
What is it about a NFL mock draft that makes many a men marvel? Like snow, no two mock drafts for any team will be identical. And that is what ...