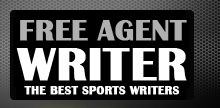 Yankee Addicts
Categories
Featured Sponsors
News published by
May 15, 2012
The Oakland Raiders have begun their OTAs this week, and for the first time head coach Dennis Allen has his veterans and rookies together on the field.News articles have come ...
November 9, 2010
The Oakland Raiders have won three in a row while moving to a half-game behind the Kansas City Chiefs in the AFC West race.  That winning streak will be on ...
October 29, 2010
When Darrius Heyward-Bey went out of the Denver Broncos game last week, I was expecting to see Johnie Lee Higgins step in as the team's next wide receiver on the ...
October 20, 2010
The Raiders went into the regular season with three quarterbacks in Jason Campbell, Bruce Gradkowski and Kyle Boller.  Injuries through the first six weeks have taken out Gradkowski (shoulder) and have ...
October 14, 2010
A lot of fans were worried when Bruce Gradkowski got hurt last Sunday against the Chargers in the first quarter.  Many were thinking that Jason Campbell didn't have what it ...
October 5, 2010
Playing in front of the smallest home crowd in over 40 years, only about 32,000, the Raiders failed to rally and come back against the Texans.  A drop by Louis ...
September 27, 2010
The Raiders were on their way to another Bruce Gradkowski comeback, much like the way he beat the Benglas and Steelers last year.  Gradkowski hit Zach Miller on a 3rd and ...
September 16, 2010
We all saw what happened to the Raiders in Week One, but it's time to move on.  And nothing will be better for the confidence of Raider Nation than to watch ...
September 8, 2010
For the last few years, the AFC West has been considered one of the weakest divisions in the NFL.  San Diego was the only team that was considered a playoff ...
September 1, 2010
Last year, the Oakland Raiders had four different quarterbacks take a snap in a regular season game.  One reason was poor play, the other three were from injuries.  Our quarterbacks ...