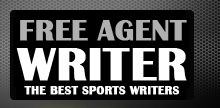 Yankee Addicts
Categories
Featured Sponsors
News published by
June 30, 2012
Chicago Bears linebacker Brian Urlacher came out this week with a very revealing comment regarding his previous contract squabble with the team.In an interview at "Lunch with a Legend" on the Waddle and Silvy Show ...
January 20, 2011
Rick Reilly came out last week with an article for ESPN describing what a jerk Chicago Bears quarterback Jay Cutler is. He mentioned in that piece how Cutler went out to dinner ...
January 6, 2011
Last year at this time, Lovie Smith, GM Jerry Angelo and team president Ted Phillips were at the podium, explaining that they were very disappointed that the team hadn't made ...
December 2, 2010
I knew it was going to come to this. All over the airwaves in Chicago since the season started, fans were calling for Chicago Bears head coach Lovie Smith's head. That's ...
January 8, 2010
I know I'm going to get grief for this, but the thought crossed my mind the other day, and like Degrassi High on the N network, I go there. Watching that ...