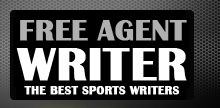 Yankee Addicts
Categories
Featured Sponsors
News published by
April 1, 2011
I know there is a lockout, but rumor has it that the Eagles can get a first round pick for Kevin Kolb. If that is the case, sign me up.  ...
March 26, 2011
We all know there is a lockout and thus not a ton to talk about.  So I decided to take a look at the top offensive weapons for the Eagles ...
February 12, 2011
Many people think the Eagles have a huge need in the secondary.  I agree with that, they do.  However, I disagree with the notion that the Eagles should spend a ...
January 29, 2011
I decided to write a column about the positions of need for the articles this offseason, I have ranked them from 10 down to 1.  Obviously there are more than ...
January 17, 2011
Don't worry Patriots fans.  Fresh off your loss vs. the Jets, I am going to help you out.  I am going to give you someone to blame.  It's easy if ...
January 15, 2011
Let me start out by saying I enjoy my colleague Wes's work frequently, and I enjoyed his read on why the Eagles should fire Andy Reid.  It was well written, and ...
January 9, 2011
Here is another edition of Fact or Fiction.For those unfamiliar with this column, Fact or Fiction is a column I write where two people evaluate statements with the word FACT ...
December 19, 2010
My father is actually headed to New York in his DeSean Jackson jersey to root the Eagles on in New York.  As I could not make the game, I decided ...
December 15, 2010
It's time for another week of fact or fiction.  This time it will be the battle of featured columnists as Will Holt makes his second appearance on fact or fiction ...
December 8, 2010
Well it is time for another edition of Philadelphia Eagles FACT OR FICTION.  This week I decided to change it up a little bit as I have Eagles featured columnist ...