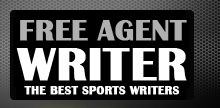 Yankee Addicts
Categories
Featured Sponsors
News published by
September 22, 2010
The number of young quarterbacks in the NFL continues to grow at an extremely fast pace, with almost 20 teams starting a different player this coming Sunday than just five ...
September 15, 2010
Is it too early for this article? Maybe so. However, there may be serious concerns over your quarterback if you are a fan or supporter of the NY Jets right now. Before ...
August 31, 2010
As a Bronco fan this preseason has been pretty interesting to say the least. Not only has the most exciting draft pick since Jay Cutler set foot in Dove ...
August 6, 2010
Hold your laughter, please.I know that you are probably thinking that I've lost my mind or am smoking that good "Snoop Dog" but I assure you I'm perfectly ...
June 12, 2010
Either Josh McDaniels is the smartest man in the room, or the McDaniels haters were right all along. Rumor is from Dove Valley that the Broncos have come to a conclusion ...
June 9, 2010
A couple of days ago I wrote an article titled Who Should Sign Terrell Owens . The article was syndicated on Bleacher Report and received a lot of positive ...
June 7, 2010
Terrell Owens is still unemployed. In this economy, that wouldn't be such a shocking statement if it wasn't for the fact that Terrell Owens is arguably the greatest wide ...
June 5, 2010
This past week the UFL held its annual draft. Teams from Omaha, Hartford, Sacramento, Florida, and Las Vegas drafted former NFL and collegiate players. Omaha held the first pick, ...