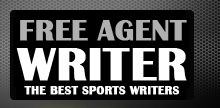 Yankee Addicts
Categories
Featured Sponsors
News published by
December 8, 2010
The Outlaw Scorned Oddly enough, the one thing that makes the American sports landscape great is what also happens to be its fatal flaw: redemption.  We all love an inspiring comeback story; ...
September 27, 2010
What a difference a few weeks make.  Just this afternoon Buffalo Bills quarterback Trent Edwards was released after a series of pedestrian performances, where his QB rating averaged in the low ...
September 24, 2010
Ah, the classic quarterback controversy.  More often than not, it centers around two schools of thought. Does a coach—in this case, Eagles skipper Andy Reid—start the guy who gives his ...
January 9, 2010
So this is how the NFL does a doubleheader.   This weekend, three games will feature matchups between teams that played each other just a week before. So it begs the ...