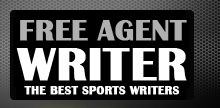 Yankee Addicts
Categories
Featured Sponsors
News published by
February 7, 2011
Anyone who believes the Super Bowl was a success in Big D, other than the newly-crowned world champion Green Bay Packers, needs to think again and get a reality check. ...
January 25, 2011
Chicago Bears quarterback Jay Cutler has a problem, a big one.  What happened on the sideline last Sunday in the freezing cold of Chicago, as his Bears teammates struggled on ...
January 21, 2011
Coach worship is a virtual religion in this country. It's a key pillar in our understanding and enjoyment of sports. The best example of coach worship might be the reverence we ...
January 17, 2011
I have completely lost patience with conventional wisdom and those who worship at its alter. I am convinced that so-called "conventional wisdom" means absolutely nothing.  Conventional wisdom had it that it ...
December 29, 2010
Redemption has a friend in President Obama, and that's a very good thing.  My hope is that what the President said about Michael Vick will not become so politicized that ...
December 27, 2010
Tim Tebow leads Denver to a comeback win over Houston with over 300 yards passing—that's the headline. The headline could also read:  Much maligned, former Heisman trophy winner begins to ...
November 5, 2010
I watch a lot of sports programming on TV, but this year, one sports show really stands out: The NFL Network's 10-week long documentary series, The Top 100: NFL's Greatest ...
September 22, 2010
Last year we marveled at the passing skills of the aging Brett Favre, who at 40 took the Vikings to the brink of the Super Bowl. Unbelievably, Favre ...
April 23, 2010
Easily the biggest surprise of this year's NFL draft is the Denver Broncos' selection of the University of Florida quarterback Tim Tebow in the first round. Despite Tebow being a Heisman ...
April 16, 2010
Pittsburg Steelers quarterback Ben Roethlisberger may have escaped prosecution, but he should not elude a suspension and public scorn. Roethlisberger has never made clear exactly what happened the night he apparently ...