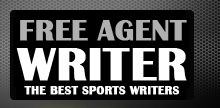 Yankee Addicts
Categories
Featured Sponsors
News published by
August 1, 2010
  You never expect much out of a player drafted in the tenth round, but the Raiders found a true gem when they took running back Frank Hawkins with the 256th ...
July 3, 2010
As the years go by, the legends grow, the memories turn golden, and each August, a select group of men earn their ultimate reward: enshrinement into the Pro Football Hall ...
July 2, 2010
Every season, hundreds of rookies, veterans, and even a handful of "retired" players all lay it on the line for a chance to suit up on Sundays. The news ...
July 2, 2010
Every year, hundreds of players hope and dream for their shot at playing in the NFL. Some are fortunate enough to get drafted, some have to work a little ...
June 18, 2010
Lately, all the recent talk from both the players and the league offices seems to come to the idea of reducing the preseason and adding to the regular season.   Many ...
June 9, 2010
The day: September 20th, 1992.  The Oakland Raiders and Cleveland Browns were about to do battle in Los Angeles.   At stake: the first win of the season for one of ...
May 11, 2010
Since 1970, there have been 18 quarterbacks taken with the first overall pick of the draft, including five straight from '01-'05. Going back a little farther, to 1936, adds ...
April 6, 2010
The acquisition of Donovan McNabb by the Redskins is a perfect example of the NFL Business Machine as we know it.  Unfortunately for Jason Campbell, it is more like a ...
March 25, 2010
Elijah Alexander, an NFL Veteran from 1992-2001, passed away yesterday after a five year battle with multiple myeloma.  MM, as it is sometimes called, is a cancer of the white ...
March 25, 2010
It could be a case of too little too late.   The charges against Warren Sapp were dropped yesterday after being proven to have no merit.  Unfortunately for Warren and athletes ...