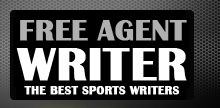 Yankee Addicts
Categories
Featured Sponsors
News published by
January 4, 2011
Part of the beauty of football is that every piece of an organization is integral to sustain a winning franchise. In baseball, some managers are merely directed to stay out ...
September 30, 2010
It may have been a while ago, but there was a time in Atlanta when an up-and-coming superstar would revolutionize the game forever and take the league by storm. It ...
September 11, 2010
The longest two-week stretch of the year is finally over. With pre-season and training camp finally in the books, we can look ahead to a slate of intriguing games in ...
August 14, 2010
Throughout the off-season, the Giants have done their very best to avoid being sucked into the Hard Knocks circus that is the New York Jets. Most Giants have dismissed their ...
August 10, 2010
Before I follow through with this article, I would like to encourage you to revisit the memories of Super Bowl XLII, specifically on the defensive side of the ball. There's Strahan ...
July 31, 2010
  Predictable. Boring. Uninspiring. Three superlatives that defensive coordinators do not want to hear in their defense's scouting report. However, these three accurately define the 2009 Giants defense, sans one last characterization: downright awful.  Let's ...
June 3, 2010
On rare occasion, a rookie class will take off in its initial season in the NFL to set a foundation for its team. Some of them highly touted prospects; others ...
May 19, 2010
The Low-Down After Tiki Barber retired, many believed that his departure would coincide with the demise of the Giants' running game. What they failed to realize was the Giants had a monster ...
May 14, 2010
As far as professional sports go, the NFL offseason tends to be the most active and unpredictable of any. This year has proven to be no exception. With a potential lockout ...
May 8, 2010
We interrupt the Lawrence Taylor coverage for an update that actually pertains to the 2010 New York Giants.   What should we expect from the Giants offense this year?   After giving up 85 ...