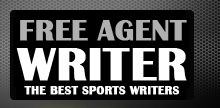 Yankee Addicts
Categories
Featured Sponsors
News published by
December 9, 2015
If this is how the 2015 daily fantasy football season rumbles to a close, we're going to need a roll cage. DraftKings' Adam Levitan revealed his Week 13 cash-game lineup scored ...
October 12, 2015
High-priced studs and duds are abundant on DraftKings as daily fantasy football's Week 6 gets underway. Eddie Lacy ($6,300), Matt Ryan ($6,900) and Julian Edelman ($7,600) lead the list of ...
October 5, 2015
The daily fantasy football Week 5 salaries are already loaded at DraftKings and ready to be whittled into a winning lineup. DFS owners already know Aaron Rodgers ($7,900), Le'Veon Bell ($8,500) ...
September 30, 2015
There are plenty of intriguing names and matchups to ponder as the Week 4 DraftKings sleepers and top value plays are revealed. Donte Moncrief ($5,000), Lance Dunbar ($3,600) and Andy ...
September 21, 2015
Daily fantasy owners can already begin separating the DraftKings DFS studs and duds as Week 3 begins. DraftKings posts the upcoming week's player values each Sunday evening as the previous ...
August 24, 2015
Preseason injuries are hazing up outlooks as fantasy football owners sift through seventh-round values to target and reaches to avoid. Julius Thomas' projections downgrade as he misses time working with ...
August 22, 2015
Potential starters at quarterback and wide receiver top the list of eighth-round values to target and reaches to avoid. Eli Manning, Allen Robinson and Ryan Tannehill can all post starter-worthy ...
August 19, 2015
Injuries, suspensions and new locations are the biggest factors for predicting the top 10 DraftKings tight end projections. Greg Olsen ($5,300), Jimmy Graham ($5,600) and Rob Gronkowski (n/a) headline a ...
August 13, 2015
Veterans on the rebound headline the ninth-round values to target and reaches to avoid for the 2015 fantasy football season. Victor Cruz's asking price is inflated thanks to a powerful ...
August 6, 2015
It is imperative for fantasy football owners to be aware of the values to target and reaches to avoid once the 10th round opens in standard redrafts. Owen Daniels tops ...