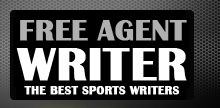 Yankee Addicts
Categories
Featured Sponsors
News published by
April 23, 2011
As the inimitable "Terry Tate: Office Linebacker" once said, it is time to "condense the nonsense." Rumors abound about Carolina's love affair with Auburn's national championship-winning quarterback, Cam Newton. Put ...
October 16, 2010
Five losses, a rookie quarterback getting his first starts in the NFL, a defense that plays hard only for the offense to stink it up and a head coach on ...
October 1, 2010
In order to beat the New Orleans Saints at their house, the almost impenetrable fortress of home field advantage that is the Louisiana Superdome, the Carolina Panthers need to take ...
June 23, 2010
The news of Steve Smith's broken arm, as bizarre as the circumstances were, has already started a cascade of dominoes falling as we approach training camp in scorching Spartanburg, ...
June 17, 2010
Following on from my last article regarding the five Carolina Panthers who need to step up this coming season comes this article, dealing with some Panthers who most would consider ...