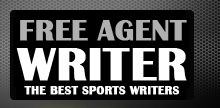 Yankee Addicts
Categories
Featured Sponsors
News published by
June 18, 2010
Yahoo Sports write Jason Cole just published a ranking of NFL offensive lines.  He claims the Saints have the best offensive line, and the Raiders have the worst.   Where do ...
June 9, 2010
This is a countdown of the best players ever selected by the Los Angeles/St. Louis Rams. Mind you, we are dealing exclusively with players taken by the organization on draft ...
June 7, 2010
The official site of the St. Louis Rams announced that the Rams have acquired Issac Bruce's rights. Ostensibly, this acquisition comes via trade with the 49ers, although details of the ...
June 2, 2010
There is a lot of interest in former Rams safety Oshiogho (O.J.) Atogwe, Yahoo! Sports reports. This begs the question: Why?  More precisely: Why now? According to Mark J. Miller, the Cowboys, ...
May 12, 2010
Last night I beheld a sight no man could ever want to see: Al Davis's mug in glorious 1080p HD. I knew I should never have watched a documentary done by ...
May 10, 2010
  As expected, the st. Louis Rams and Dallas Cowboys finalized their Carpenter-Barron Trade this morning.  There were no surprises.  The trade is a straight-up one-for-one deal with no exchange of ...
May 10, 2010
The Rams ownership confusion seems to have taken a turn for the worse.  Evidently, Stan Kroenke appeared before the NFL finance committee last week in New York City.  He made ...
May 7, 2010
  Truth be told, we know exactly how you turn around a sack-sack football program and construct a champion. It has been done plenty of times over the course of the ...
May 6, 2010
Ah, I remember it like it was yesterday!  The year was 2007.  Mel was ranting and raving about JaMarcus Russel.  One of the strongest arms ever seen.  He can throw ...
May 6, 2010
I hope everyone was watching ESPN's NFL Live! earlier in the day.  It will air again at 9:00pm Pacific and 12:00pm Eastern.  They dealt at some length with Steven ...