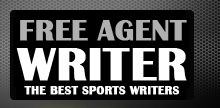 Yankee Addicts
Categories
Featured Sponsors
News published by
January 6, 2013
For a few minutes, let's forget about any scenario that would bring Tim Tebow to the Jacksonville Jaguars. There are a few more important things to worry about before the ...
January 2, 2013
Mike Mularkey is still the head coach of the Jacksonville Jaguars.For now. While Mularkey has been spared the sword so far, Gene Smith was not that lucky, having been given ...
November 25, 2012
Justin Blackmon's road through the NFL this season has not been paved with gold.A DUI in the offseason followed by a lengthy holdout did not help endear him to the ...
November 4, 2012
For the second time in less than a year, the NFL's greatest enigma, Tim Tebow, had been the topic of trade conversation in Jacksonville this week. Nothing materialized from it ...
October 10, 2012
Is it possible that Tom Coughlin is chuckling a little bit right now? The Jacksonville Jaguars really have not been able to enjoy continued success since the first head coach ...
August 7, 2012
The injury to Austen Lane this week for the Jaguars is another in a laundry list of incidents that have either touched the national media spotlight or have caused concern ...
August 4, 2012
The sand is slipping through the hourglass.No, this is not a soap opera, but it sure could be. The fact that Blaine Gabbert must take the reins of the Jaguars ...
July 28, 2012
While it may not be the biggest business Jacksonville Jaguars Shad Khan owns, it certainly is the most global and polarizing. And with that comes the realization the masses that ...
June 6, 2012
If this were the NBA, we might be hearing Allen Iverson complaining about this just being about "practice." But this is the NFL and while there is some discussion that ...
June 5, 2012
The Justin Blackmon saga is either coming to an end, or just beginning to heat up in Jacksonville, as the Jaguars have called a 1:15 pm press conference on Wednesday ...