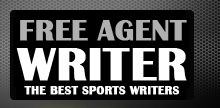 Yankee Addicts
Categories
Featured Sponsors
News published by
January 18, 2017
Championship Game Weekend is the NFL's equivalent to the Final Four. Four teams will enter, but only two will advance for a chance to hoist the Lombardi Trophy. In the AFC, ...
January 16, 2017
The battle for AFC supremacy is upon us, as the Pittsburgh Steelers will go on the road to take on the top-seeded New England Patriots in the AFC Championship Game ...
January 16, 2017
And then, there were four. The Atlanta Falcons proved themselves as contenders in a 36-20 victory over the Seattle Seahawks. The No. 2 seed in the NFC, the Falcons now have ...
January 10, 2017
After a less than stellar Wild Card Weekend, the contenders for the Lombardi Trophy eliminated the pretenders in abnormally dominant fashion en route to securing a spot in the divisional round of ...
January 4, 2017
This NFL season has seen one of the closer MVP races in recent years. Last year had little to no doubt, as Cam Newton stood out as an elite talent who carried ...
January 1, 2017
This is it, ladies and gentlemen. Week 17, the final week of the 2016 NFL season, is upon us as teams around the league are scrambling to solidify their place ...
December 28, 2016
It's hard to believe that the first round of the NFL playoffs is only two weeks away, and it's also hard to believe the lack of drama in the AFC ...
December 21, 2016
Now, things are starting to get interesting.  No longer do NFL teams have a comfort zone to "figure things out" or do better next week. It's Week 16, and every game ...
December 12, 2016
While there were some upsets in Week 14, much of the 2016-17 NFL playoff picture remained intact. The Dallas Cowboys may have found their kryptonite in NFC East divisional foes the New ...
December 7, 2016
It may only be Week 14 in the NFL regular season, but for fantasy football players it's playoff time. If you're one of the fortunate owners with a first-round bye after ...