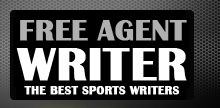 Yankee Addicts
Categories
Featured Sponsors
News published by
October 11, 2010
Even before the season started many fans had circled tonight's Minnesota-New York game. With good reason too. Both teams made their conference championship game a season ago, and ...
October 8, 2010
Struggling to choose between starting running backs? Wondering who to replace your bye-week starter with? Questioning whether or not to start an ailing player? Well then look no further. With ...
October 6, 2010
A quarter of the way through the season, and a few teams are beginning to separate themselves from the crowd. What's more? Santonio Holmes and Brian Cushing make their highly ...
October 5, 2010
With Week 4 in the books, the contenders are starting to separate themselves from the pretenders. In yet another action packed week, we saw the Giants record ten sacks, the Patriots ...
October 5, 2010
In Sunday night's game, the Chicago Bears were embarrassed by the New York Giants. Even without a top pass rusher in Mathias Kiwanuka, the Giants managed 10 sacks against a ...
August 29, 2010
I've always been a fan of the auction draft. In fact, long ago I wrote an article detailing why it was better than standard snake drafts. You set the value ...