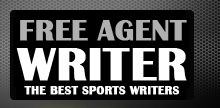 Yankee Addicts
Categories
Featured Sponsors
News published by
January 30, 2011
  Drew Thurman (9:54 pm) Dane Sanzenbacher was a late addition to the Senior Bowl roster, not even getting to practice in Mobile, Alabama with his teammates until Tuesday. He made ...
November 13, 2010
Dave Thurman (11:12 am)Check out our Know the Opposition feature for full information on Penn State. Below we have five things to look for as the Buckeyes host Joe Paterno and ...
August 7, 2010
Drew Thurman (8:51 pm) The NCAA has been under a lot of heat lately, and rightfully so. It has become a ridiculously bureaucratic entity with little control over the real issues ...
July 19, 2010
In our ongoing series, we have already looked at the following positions: wide receiver, linebacker, offensive line, defensive back, fullback and tight end, defensive line, quarterback, and specialists. The rich tradition ...
July 15, 2010
Drew Thurman (3:34 am)It's been a decade of dominance for the Ohio State Buckeyes, especially at the linebacker position. From Wilhem to Hawk to Laurinaitis, there has been some serious ...
May 29, 2010
Dave Thurman (11:22 am) In this ongoing series, TSB has already ranked the ten greatest receivers in Buckeye history...now on to the linebackers. There have been so many ...
April 7, 2010
Under center on Sundays? Just maybe! (Terry Gilliam/Associated Press) Drew Thurman (4:03 pm) If someone would have asked this question in December of last year, they may have been ...
March 13, 2010
Drew Thurman (7:20 pm) Ohio State's Pro Day has taken a backseat to Turner's heroics, but today was a solid day for many of the Buckeye players. Coleman, ...