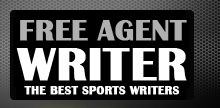 Yankee Addicts
Categories
Featured Sponsors
News published by
May 19, 2010
The 2009/10 season ended brilliantly for the Cleveland Browns. Running off 4 consecutive wins, and eliminating a team from playoff contention in the Jacksonville Jaguars left a sweet taste in ...
March 29, 2010
After what's being called the "best workout in the last 10-12 years" by Scouts, GM's and football minds alike, the question must now be raised; is Sam Bradford the right ...
March 4, 2010
This is the third installment for this nine part article, leading us up to the draft.    In the first installment, we talked about Cleveland's RFA's and UFA's and what direction ...
February 25, 2010
Last week, with Question No. 1, we addressed the Cleveland RFA and UFA situation.    This week, since the combine started today, we're going to look at the draft and what Cleveland ...