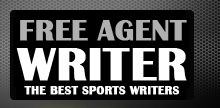 Yankee Addicts
Categories
Featured Sponsors
News published by
July 20, 2013
NFL training camps may be the true beginning of the new season. Sure, there is the offseason, and light workouts in shorts, but training camp is when it really starts to ...
December 26, 2012
It's never a good sign when a team is talking about the draft and free agency in December.But that's where the Detroit Lions are right now, as they currently hold ...
August 25, 2012
The last time these teams met, it meant something.That's not (entirely) a knock on the preseason; it was the Lions' second win of a three-game winning streak that put them ...
August 11, 2012
Just like that, Detroit Lions football is back.Though a 19-17 loss to the Cleveland Browns is mildly disappointing, it gets a lot easier to swallow when you remember that the ...
July 18, 2012
Nick Fairley's career NFL statistics don't paint a pretty picture right now, especially if you go outside the white lines.Zero games started, 10 games played, 15 total tackles, one sack, ...
June 27, 2012
In case you haven't heard, it happened again.The Detroit Lions simply cannot stay out of handcuffs this offseason, or so it would seem, with cornerback Aaron Berry being the latest ...
June 20, 2012
Is Ndamukong Suh a good man or a bad man?Think carefully before you answer that question. It's loaded that way for a reason.Now that you put the requisite amount of ...
April 18, 2012
The 2012 NFL schedule is out, and with it comes another wave in the NFL news cycle.Though the season itself is far off, we now have a pretty good idea ...
April 26, 2011
With the NFL lockout seemingly on its last legs, we're coming up on time for the NFL draft and free agency, in that order.We haven't discussed free agency much this ...
April 24, 2011
With the 2011 NFL Draft closing in, time is running increasingly short when it comes to breaking everything down.There is time for one more mock draft (check back Tuesday) and ...