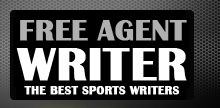 Yankee Addicts
Categories
Featured Sponsors
News published by
March 12, 2011
As a football fan living outside America I am having a bit of a chuckle at the union and the National Football Players Association thinking they are ahead in ...
April 29, 2010
While there seemed to controversy from my NFC choices, in that there was limited changeover from 2009, does this prognosticator see much change in the AFC?   Haves vs Have ...
February 14, 2010
It's early in the negotiation process between the Packers and their five UFAs and their eight RFAs.  I will take a quick look at the projected salary requirements to resign ...