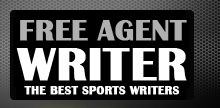 Yankee Addicts
Categories
Featured Sponsors
News published by
February 2, 2011
When the Raiders announced last week that Steve Wisniewski would be the offensive line assistant, Raider Nation wondered who would be the new offensive line coach.   Now they know it will ...
January 23, 2011
While the Patriots made the occasional run at the Super Bowl every 10 years or so, they had mostly been irrelevant until Bill Belichick and Tom Brady came along.  There were ...
January 21, 2011
A lot has been made over the past week about Wes Welker being benched for the first series of the playoff game against the Jets because of comments he made ...
January 19, 2011
Why this Patriots loss to the Jets should not have been a surprise.  When Ty Warren and Leigh Bodden went down early, most objective fans realized this was going to ...