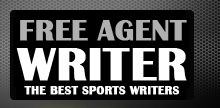 Yankee Addicts
Categories
Featured Sponsors
News published by
October 28, 2010
Tony Romo and 20 Most Team-Crushing Injuries In NFL This Year: Who was the player, what was the team and where do they rank in the 2010 season's injury-impact list?From ...
October 27, 2010
NFL Week 8 Predictions are in the house, at least my personal picks of the contests to come.And from a gridiron game between the San Francisco 49ers and Denver Broncos ...
October 24, 2010
Week 7 of the NFL season is looming around the corner, and with that in mind it's time to begin taking a look at the games on tap this Sunday. ...
October 23, 2010
O.J. Simpson and his infamous white Bronco chase interrupted Game 5 of the NBA Finals between the New York Knicks and Houston Rockets 16 years ago.But amazingly, people across the ...
October 19, 2010
From NFL trade deadline talk to Brock Lesnar to Brett Favre, Tuesday's sports headlines have been filled with a little of everything. And with the MLB playoffs and more on the ...
October 18, 2010
The sixth week of the 2010 NFL season is nearly in the books, and with that in mind it's time to unveil a new set of power rankings.So, with 28 ...
October 17, 2010
With everything from Brett Favre to Aaron Rodgers to Vincent Jackson, week 6 of NFL action will be filled with news, rumors, and more. And with other NFL news constantly brewing, ...
October 16, 2010
Heading into week 6 of the 2010 NFL season, numerous under-the-radar players have already begun making a name for themselves.And today, we're going to be taking a closer look at ...
October 16, 2010
With Week 6 of the NFL season right around the corner, it's time to break out the notepads in advance of this weekend's games for a look at who to ...
October 16, 2010
The 2010 NFL season continues this weekend with more than a handful of marquee matchups, including a Monday night showcase featuring the Jacksonville Jaguars and Tennessee Titans.Keep in mind that ...