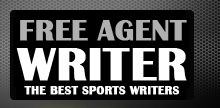 Yankee Addicts
Categories
Featured Sponsors
News published by
September 2, 2010
With the Cincinnati Bengals deciding Terrell Owens was ultimately a better fit for their team than Antonio Bryant, Bryant was released. Now that he is a free agent there is ...
July 10, 2010
First let me preface this by saying I am a Cleveland Browns and Cleveland Indians fan, so you might dismiss what I am about to say because you think I'm ...
May 26, 2010
Every NFL team has those guys that coaches and fans just KNOW they can rely on. The Colts trust Peyton Manning to be the leader of their offense, the Arizona ...