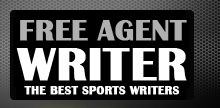 Yankee Addicts
Categories
Featured Sponsors
News published by
April 13, 2011
Why is Cincinnati Bengals quarterback Carson Palmer is getting the royal treatment from the media? The embattled quarterback has consistently harped he wants out of Cincinnati.  Palmer has stated if he's ...
April 1, 2011
As Cam Newton strives to be the first quarterback taken in the upcoming NFL draft, some suggest he's been subjected to racist stereotypes. Hall of Fame quarterback Warren Moon has been ...
February 14, 2011
After winning Comeback Player of the Year and being issued an honorary key to the city of Dallas, Michael Vick is being publicly bashed for his past and not what ...
February 3, 2011
The embattled Pittsburgh Steelers quarterback Ben Roethlisberger's much anticipated showdown with the media went exactly as planned.  Without question, Roethlisberger went Hollywood.  He was smiling and graciously answering the powder ...
December 15, 2010
The Cincinnati Bengals have lost 10 straight games.  The primary reason why the Bengals are struggling lies directly on the shoulders of quarterback Carson Palmer. The Bengals, particularly Palmer, seemed to ...
November 4, 2010
I think Minnesota Vikings head coach Brad Childress has officially lost mind Childress pulled the trigger and waived Randy Moss who was claimed off the waver wire by the Tennessee Titans.  Childress ...
October 17, 2010
The Dallas Cowboys will travel today to Minneapolis to take on Brett Favre and the Minnesota Vikings.  Like the Cowboys, the Vikings are struggling and so is Favre.  Off the ...
October 16, 2010
Embattled quarterback Brett Favre has a lot on his mind these days as result of the allegations levied against him.  We know about the photos, texts and voice mails Favre ...
October 9, 2010
Brett Favre has been "Mr. Untouchable" in the media.  Like his quarterback brethren Ben Roethlisberger Favre has been one of the "Golden Boys" of the NFL because the mainstream media ...
October 6, 2010
Randy Moss has been traded from the New England Patriots to the Minnesota Vikings for a third-round draft pick. Are you kidding me? Moss has been the most productive receiver in the ...