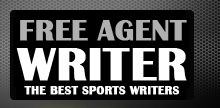 Yankee Addicts
Categories
Featured Sponsors
News published by
July 8, 2014
Leonard Hankerson has had a spotty career with the Washington Redskins thus far, and he may be running out of chances in the capital. Hankerson has certainly shown promise and performed well at ...
June 21, 2014
The Cleveland Browns may not have the most talent-filled roster in the NFL, but they certainly do have some players who would be mighty hard to replace. There's a litany of good ...
May 24, 2014
The Cleveland Browns have done a lot of improving this offseason and are in a good position as the 2014 season nears. They've added a multitude of talented players through both ...
March 25, 2014
Free agency is one of the best ways to improve as a team, and many NFL franchises have taken advantage of this year's pool. While many teams made some positive changes, some have made some ...
February 25, 2014
Leading up to the NFL Scouting Combine, many people questioned A.J. McCarron's arm strength, but after what he showed in the passing drills, there leaves little room for doubt—he can throw ...
February 12, 2014
We see them every year. Players who have shown flashes of their true talent but have been pushed down draft boards for some reason. It's an unfortunate reality of the ...
December 28, 2013
According to Chris Mortensen and Adam Schefter of ESPN.com, the Houston Texans have indeed found the man they want to be their next head football coach in current Penn State coach Bill ...
December 24, 2013
The San Francisco 49ers came up big against the Atlanta Falcons on Monday night in what would be the final game played at Candlestick Park. It was a back-and-forth battle ...
December 24, 2013
Well, football fans, we made it—it is almost time for the playoffs. With several parts still moving in terms of seeding, the only real certainty comes towards the top of the ...
December 17, 2013
Alex Smith and the Kansas City Chiefs are riding a two-game win streak heading into Week 16 and look more in sync than ever. Smith's ability to lead a team ...