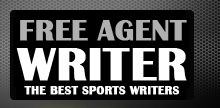 Yankee Addicts
Categories
Featured Sponsors
News published by
May 24, 2014
The Denver Broncos enter 2014 with the most stacked offensive unit in the entire NFL. In 2013, Denver's offensive unit shattered NFL team records for points (606) and touchdowns scored (76) ...
February 9, 2014
Following the Denver Broncos' 43-8 demolition at the hands of the Seattle Seahawks in Super Bowl XLVIII, Peyton Manning had a simple and direct message to his team in the ...
January 28, 2014
With Super Bowl XLVIII now less than a week away, the hype for the game should reach a whole other level over the next several days. Which means what, exactly? A lot ...
December 28, 2013
The Denver Broncos (12-3) visit the Oakland Raiders (4-11) in a Week 17 matchup involving huge playoff implications. It's simple—if the Broncos defeat their AFC West rivals on Sunday, Denver will ...
December 21, 2013
The Denver Broncos (11-3) visit the Houston Texans (2-12) for an early afternoon meeting between two teams heading into opposite directions. The Broncos are currently the AFC's best team. It's simple—as ...
December 10, 2013
The Denver Broncos are 11-2 and are in prime position to clinch the AFC's No. 1 seed. As long as the Broncos win their remaining three games, they will be the ...
December 7, 2013
The Tennessee Titans (5-7) visit the Denver Broncos (10-2) at Sports Authority Field at Mile High on Sunday. Both AFC teams are in the playoff hunt but for different purposes. The Broncos ...
November 30, 2013
The Denver Broncos (9-2) pay a visit to Arrowhead Stadium to face the Kansas City Chiefs (9-2) for AFC West supremacy. Both of the AFC's top two teams are coming off ...
November 17, 2013
The Denver Broncos (8-1) receive a visit from their AFC West rivals, the undefeated Kansas City Chiefs (9-0), in a matchup of two of the best teams in the AFC. Both ...
November 2, 2013
The Denver Broncos have a week off to relax. After four consecutive weeks of tough games versus the Dallas Cowboys, Jacksonville Jaguars, Indianapolis Colts and the Washington Redskins, the Broncos finally ...